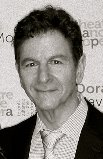 Tony was born and raised in the East End of Montreal, a predominantly tough, blue-collar, Francophone neighbourhood. As a matter of survival, and being the only Anglophone, he quickly became proficient in French and could outrun any bully in the neighbourhood!
After working behind the scenes on film sets, Tony eventually got the acting bug and began dabbling in stand-up comedy and community theatre. In 1981, he was the opening act for Jim Carrey at a Montreal comedy club, just prior to Carrey's rapid rise to fame. Tony remembers Jim as being genuinely supportive and encouraging and destined for stardom.
As a writer, Tony has written several TV Pilots, short stories and stage plays, his first, Bedpan Deadpan, winning 3 awards at The Quebec Drama Festival. This led to a production in Toronto, where Tony moved to in 1982 and has pursued a professional acting career since that time.
Performing has been a family affair, with Tony's wife doing musical theatre until she became a teacher and his daughter, Alia just starting in acting and improvisational comedy. Gabriel, (Tony's son), is an accomplished musician/singer/songwriter; his folk/blues band, Whitebrow performing regularly around Toronto.
Tony's first professional acting role was in a Molson's commercial and soon after, he became a regular on the comedy show Bizarre (which starred John Byner). A great many roles followed (here is a link to his videography). His favourite role was in a Quebec TV series, Omerta, in which he played mobster, Jimmy Vaccaro, a Capo in a crime family for two seasons. He was so popular in Montreal, that people regularly stopped him on the street for autographs and photos. When his character was killed off, ratings for the show actually dropped! This hit series pre-dated the popular American show The Sopranos.
Most recently Tony has appeared on Suits, Saving Hope and Bomb Girls and he is currently in rehearsals for the Soulpepper Theatre production, Incident at Vichy which opens May 16 in Toronto.
Quick Facts
Favourite actor -Robert DeNiro
Favourite character actor -Kevin Spacey
Favourite Canadian actor -Neve Campbell
Favourite Movie - American Beauty
Favourite series- House of Cards
Would most like to meet -Robert DeNiro
Current project -Development of his new play 'Tit for Tat' at Theatre Aquarius in Hamilton
Funniest moment - During a live performance, when a female co-star, in the wings, flashed him (it took 10 minutes for Tony to stop laughing on stage).
Most fun project - developing a comedy review with friends