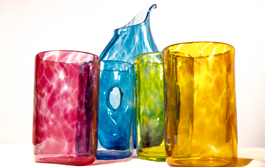 View Toby's work here!
Toby will be exhibiting at the Kristina Kirkwood Studio during the 2018 Dundas Studio Tour. Kristina is located at 47 Livingstone Dr. in Dundas. The Tour is open from 10 am to 5 pm. Saturday & Sunday, September 29 & 30. Details on the whole tour can be found here and Facebook.
We at Corporate Autoworks are fortunate that we can often take the time to chat with our customers and get to know a bit about them and their pursuits. We first met Toby Moriaty after his brother Zac served a co-op term with us. The entire Moriarty family started to bring their vehicles to us and we are the richer for making their acquaintance.
Toby grew up in Toronto and Burlington and attended Pearson High School. His initial interest in crafts was ceramic pottery and he did co-op term with Don Zber Potteries which gave him a grounding in the craft and made him decide to make a career of the art.
After high school, Toby pursued his interest at Haliburton, an adjunct of Fleming College where he took a half year of ceramics and a half year of glass blowing. His interest in glassblowing took over and he attended an eight week course at Parland in North Carolina. He apprenticed with Paul Rodrigues for three years at Paul's studio in Greenville, Ontario and then moved on to the Living Arts Centre in Mississauga.
Along the way, Toby applied for a very elite course at the Corning Glass Works in Corning, New York. If you have not visited the Glass Works, it's an amazing museum of glass through the last few hundred years with displays of both glass from Corning and around the world. Demonstrations of glass blowing are featured and fascinating (Stephanie and Michael visited the Glass Works during a vacation in the Finger Lakes region). Attendance at the courses are by special selection and last for two weeks during which special techniques in glass blowing are studied. Toby has twice been selected for courses, a tremendous recognition of his talent.
Toby is currently working on developing his own unique pallete and does custom work as well as his own creations. He is a resident artist at the Living Arts Centre and gives community introductory courses on glass blowing. Samples of Toby's work can also be seen at Corporate Autoworks. They make unique and beautiful gifts!